Ray Ellin is comedy's renaissance man: comedian, television host, actor, writer and filmmaker. He's the popular host of LateNet with Ray Ellin, the first live comedy/variety show to combine both in-studio and online audiences.
To request Ray Ellin's press kit, please call 212-260-9815.
MEDIA INQUIRIES: Call 212-260-9815
Ray's always a dependable media source for insights and commentary on the comedy business — and the celebrity scene in general. Like all successful comics, Ray's a student of life, and his observations — from one-liner sound bytes to expanded commentary — are available in quick turnaround for harried, underpaid reporters on deadline.
Ray's the popular host of LateNet with Ray Ellin, the first live comedy/variety show to combine both in-studio and online audiences. Guests have included Bill Murray, Hank Azaria, Chevy Chase, Fran Drescher, Leonard Nimoy, Jeff Garlin, Susie Essman, Richard Belzer, Paul Shaffer, Gilbert Gottfried, Ralph Macchio, and Artie Lange. The show is produced on location in comedy venues and multimedia studios in New York City. You can find out more about this innovative show and view clips of past shows by clicking here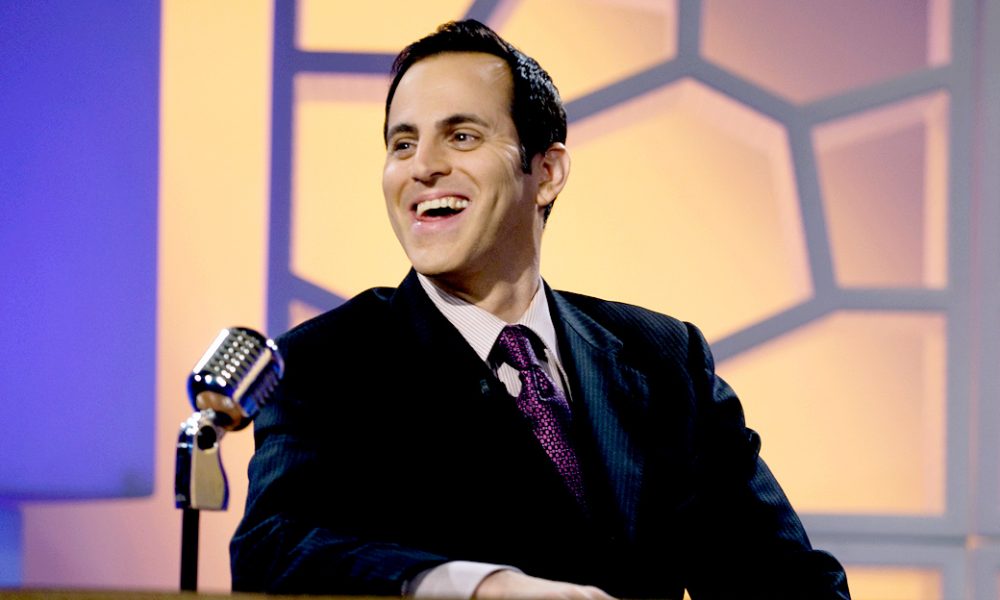 After performing at his 6th grade graduation, Ray Ellin knew what he wanted to do with his life: comedy. By age fifteen, he began hitting the open mics at comedy clubs in Boston. By 18, he was a fixture on the local scene.
While attending Boston University, Ray continued to do standup. After graduating as a film major, Ray moved to New York City. He bounced around apartments. When rent money was tight, he lived in his 1976 Dodge Aspen — not the most spacious living accommodations, and no plumbing, but cheap. To make ends meet he temped. He tended bar. He sold postal uniforms to letter carriers. Measuring a mailman's inseam wasn't exactly his dream job, but he was good at it.
All along, Ray continued to perform. He hosted shows at some of New York's top clubs: Comic Strip Live, Gotham, Comedy Cellar. Known for his ability to ad-lib and improvise with any crowd, Ray became one of New York's most sought-after hosts. Honored as one of the Ten Standout Stand-Ups Worth Watching by Back Stage magazine, Ray has performed at hundreds of clubs and colleges around the country.
Ray began booking television commercials, appearing in spots for Coke, Volkswagen and Bud Light. He eventually won the role as host of Metro channel's New York Now, where he interviewed celebrities from Michael Douglas to Russell Simmons to Katarina Witt to former NYC mayor Ed Koch.
Ray has made many television appearances, and has been profiled on the NBC show Dateline. As an actor, he has had several roles, including co-starring in the romantic comedy Killing Cinderella, where he played Jessica Capshaw's conservative boyfriend.
In 2000, Ray was hired to co-create and produce the animated series La Familia starring John Leguizamo. He also co-created and produced the highly successful Jack Daniel's Latino Comedy Series, a 13-week event in New York City that ran in other US cities including Chicago and Miami.
After devoting his life to making people laugh, Ray decided to put his college degree to use and make a film. He wanted to make a movie that would celebrate the early Latin comics who were so influential but didn't get their due. He approached JJ Ramirez, Joe Vega and Angel Salazar — pioneers in Latin comedy — and they bit.
Ray financed the film using six credit cards and the gamble paid off: After only his third showing at a film festival, he received his first studio offer to purchase the movie. More offers followed and Ray sold his film to 20th Century Fox. The rest is history.
And he can still get a good deal on a pair of postal pants.